Newhaven Port Sheave Wheel Refurbishment
In late 2019 investigative works began to assess the condition of the sheave wheels and counterweight pit of the Newhaven Linkspan Hydraulic linkspan.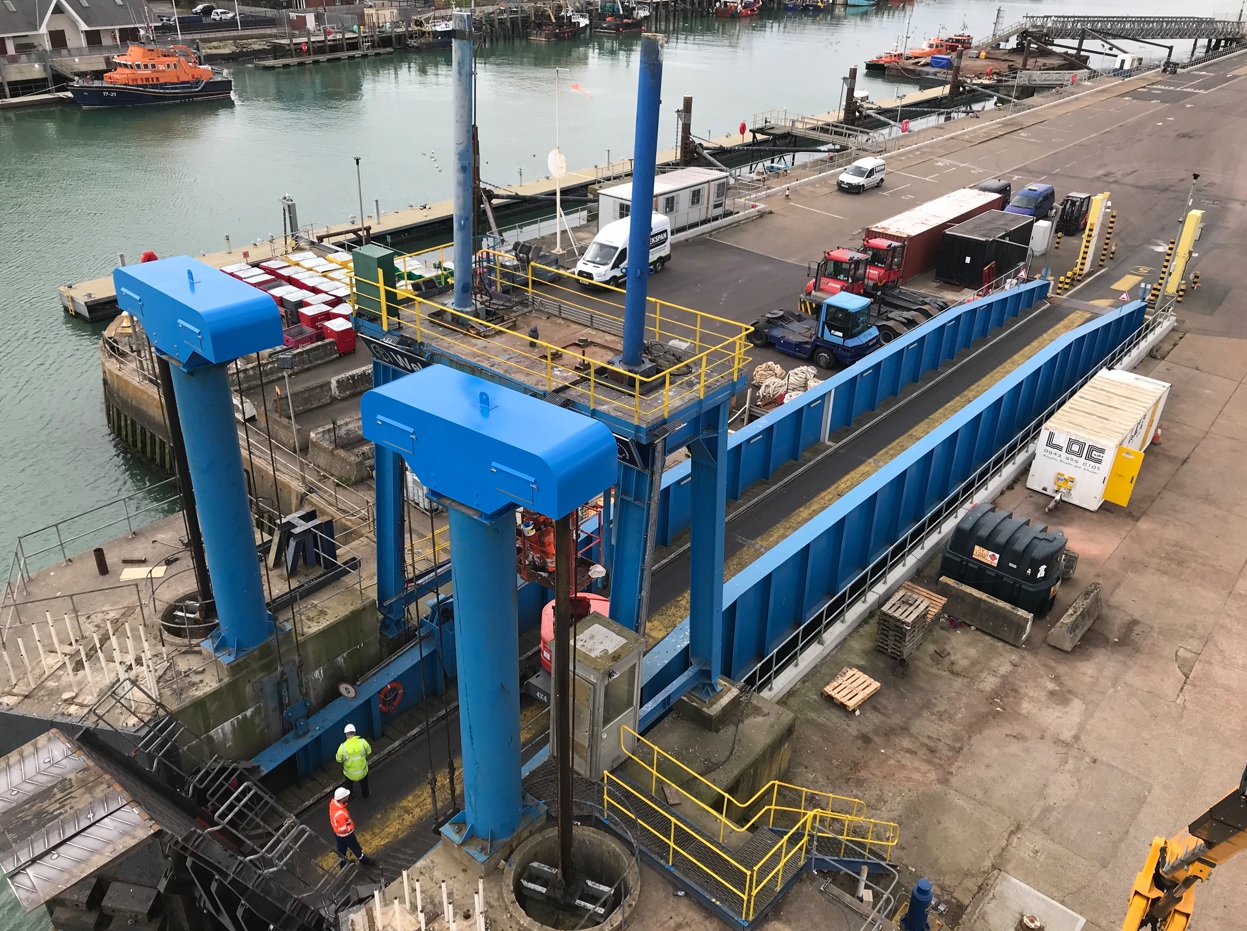 The linkspan comprises an approximately 45m long steel bridge with steel deck plates. There are two 20t counterweights on cables designed to relieve some of the weight of the bridge with two separate hydraulic rams that control the level of the linkspan. In addition, three steel transition flaps on their hydraulic rams lower onto the berthed vessel with free-hanging finger flaps at the end.
The inspection identified severely deteriorated bearings due to misaligned cables; because of this, the sheave pins, bearings and wheels all needed replacing with the works being carried out without causing disruptions. USL Ekspan worked closely with Beckett Rankine to develop a detailed methodology and program to allow the works to be broken down into specific time slots. In addition, the team utilised trial test lifts and commissioning to ensure all the major works could be carried out between ferry sailings.
After completing the sheave wheels works, the team began replacing the two main operating rams. With obstacles such as seized connecting pins and limited working hours, a bespoke hour-by-hour plan was designed to divide the work into phases.
During the ECI stage, the USL Ekspan team had the opportunity to undertake trial disassembly and reassembly to ensure each phase could feasibly be completed in the allocated time slots.
Innovation is critical to a smart engineering approach; the team proposed dimensional changes to the sheave wheel assembly, retrofitted stainless steel grease lines, added bespoke rain covers fitted with inspection hatches to allow for ease of future maintenance and developed an emergency ram failure system that allowed a spare ram to be stored locally, with the ability to be installed quickly if one of the main rams developed a fault.
Thankfully, all phases of the work were completed as planned without causing any delay.
Services: 
- Inspection of the Structural Linkspan Bearings
- Developed a bespoke detailed methodology and programme
- Design, manufacture & install of Temporary Works & additional support stiffeners.
- Remanufacture of Sheave Wheels
- Hydraulic system refurbishment
- Design improvements
For more information, contact us: info@usltekerv.com